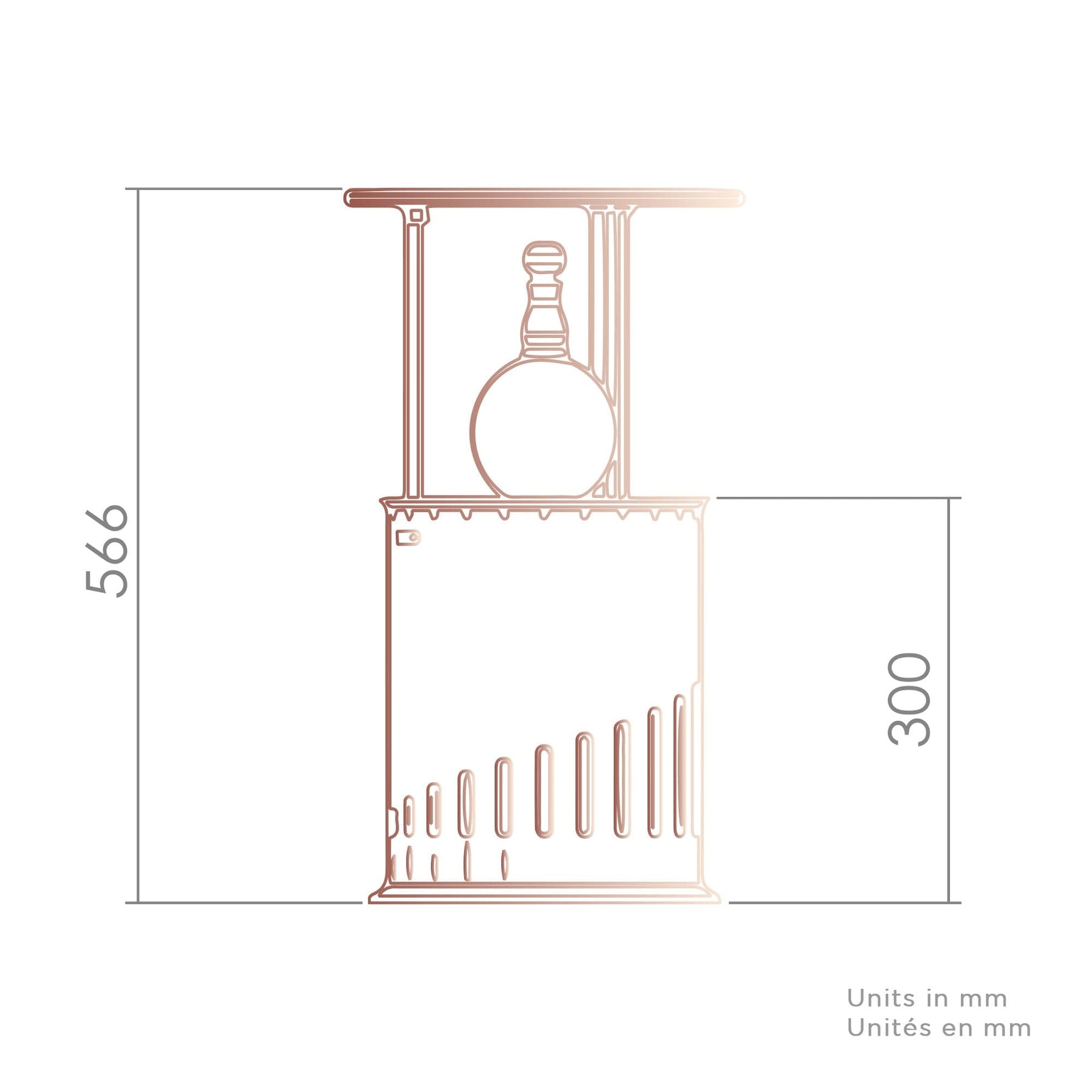 CAMUS COGNAC JUBILEE 5.50
Pickup currently unavailable at COGNAC CAMUS - RECEPTION & EXPEDITION
CAMUS COGNAC JUBILEE 5.50
COGNAC CAMUS - RECEPTION & EXPEDITION
Pickup currently unavailable
29 Rue Marguerite de Navarre
16100 Cognac
France
+33545322828
PRICE : 29,800€
Interested in the Jubilee 5.50 line? Do reach out via the contact form above, one ambassador from LES ATELIERS CAMUS shall comeback to you swiftly.

---
Capturing the essence of time
Jubilee 5.50 captures the story of Cyril Camus and his family
His travels forged his resolutely international view of the world and enriched his family heritage, which boasts five generations of entrepreneurs. It is to this perfect alchemy of tradition and innovation that Jubilee 5.50 pays tribute.
The Jubilee 5.50 blend is the culmination of a complex operation aimed at bringing out the organoleptic qualities of five exceptional cognacs by blending them without masking them, just as elementary colors complement without overpowering each other.
Drawing his inspiration from a 1971 Cognac de Petite Champagne distilled 50 years ago and sourced from the family reserve, our Cellar Master chose to blend five cognacs, each characterized by floral, fruity, gourmet and rancio notes. These aromatic notes reflect the most distinctive aromas of Cognac in its purest form. Jubilee 5.50 was born from the alliance of these five Cognacs. In a superb amber color, these five exceptional eaux-de-vie shine with their unique personality and perfect expression. Cognacs as they are— authentic and without any pretense.
The intense nose evokes a marriage of plums and dates, subtly sprinkled with white blossom. At the first sip, we taste the sweetness of currants, leading us through an oriental market where the freshness and delicacy of green tea come together. The long, fresh finish is even more delicate, with notes of aged citrus fruits discreetly followed by hints of roasted hazelnuts.
Blending titanium and aluminum with fine jewelcraft and using highprecision components from the aeronautics and automobile industries, the Jubilee 5.50 line introduces new tasting rituals and ushers Cognac into a new age.
Only 50 pieces will be produced, a number that celebrates the jubilee of a man who now shares the legacy of the generations that preceded him. Fifty, symbolizing harmony, creativity and open-mindedness in a constantly changing world.
Made from 6060 aluminum tube, usually used in the boating and aeronautics industries, the Jubilee 5.50 display cases feature a contemporary design for the Cognac. More than a case, it is a ritual in itself. The time zones carved around the metal frame expose the crystal decanter. You can imagine it, catch a glimpse of it, but its full splendor will only be revealed to those who can unlock its secrets. The Héritage Paraison decanter, created in 1931 by Georges Chevallier, highlights the beauty of Cognac. Its pure form captures the light like never before. Its elegant base is designed to match the bottle's generous curves. It is like a timeless chalice, preserving our precious Cognac for future generations.
In total, only 45 unique display will be produced, the other 5 decanters being offered in their tasting desk.
• Maturation: Fine-medium grain French oak cask (capacity 350 litres)

• Terroir: Blend of 5 cognacs (Bons Bois, Fins Bois, Petite Champagne & Grande Champagne)

• Grape varieties: Ugni Blanc & Folle Blanche

• Ageing: Very old cognacs

• Tasting: Ambient temperature (20°)
• Delivery worldwide with La Poste - Colissimo, a reliable and flexible service.
• Preparation and shipping on the same day for orders placed before 3p.m, Monday to Friday.
• Delivery time: usually between 2 to 5 working days depending on the country of shipment.
• Protection of your precious bottles with ergonomic, discreet and secure packaging.
NB: For Countries outside EU buying items ex. VAT, be aware you have to pay import taxes according to the laws of that specific country. In case of returns we are not able to return any duties or taxes, as this is paid to and handled directly between you (the customer) and your country.